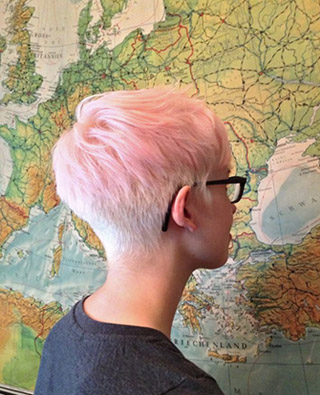 Hello!
My name is Kali Ciesemier (
Kali sounds like "Cali" and Ciesemier rhymes with "Cease-fire"
). I'm the Color Designer for the show "OK KO: Let's be Heroes!" at Cartoon Network and also a freelance illustrator based in Los Angeles with a love of color and the fantastic.
I taught illustration (2009-2013) at my alma mater, the Maryland Institute College of Art, and later at the University of Arts in Philadelphia (2015) and the School of Visual Arts in New York (2015-2016). I've also worked on a wide variety of projects!
My clients include
Amtrak, the Boston Globe, Cartoon Network, Google, Harper Collins, LA Times, the New York Times, the New Yorker, Scholastic, and United Way. I have also previously worked as a concept artist for Big Huge Games.
My work has been recognized by
the Society of Illustrators, Spectrum, and American Illustration.
I have spoken at
the Society of Illustrators on the "First Four Years" panel, Light Grey Art Lab at the
"Resolve to MAKE: 2013"
workshop, Winthrop University as the
GD/IL commencement
speaker, Small Press Expo 2013 on the "Illustration as Profession and Practice" panel, and schools such as Rhode Island School of Design, Maryland Institute College of Art, School of Visual Arts, Montclair State University, and New Hampshire Institute of Art.
CONTACT:
kali@ciesemier.com
630-335-9384

All images © Kali Ciesemier 2018, do not use without permission.
Made by Galleria.